SATURDAY, sept 9, 2023
Virtual Event Time:

Please note the start time based on YOUR timezone:

7 am - 9 am PST (BC)


8 am - 10 am MST/CST (AB-SK)

9 am - 11 pm CST (MB)

10 am - 12 pm EST

(ON, QC)

11 am - 1 pm AST (NB, NS)
Live Virtual Streaming Event: From the comfort of your home
You will receive an important follow-up email containing your unique log-in/access to attend your LIVE STREAM experience
Learn More About this Training!
Workshop Description
T.A.P. THE ATHLETIC PUMP

Discover exercises unique to the Bender Ball using the STM Approach – Stabilize – Then Mobilize! The
Athletic Pump workout utilizes the Bender Ball, Gliding Disks and Tubing and is specifically designed to
target every major muscle group included in upper body, lower body and core. You will see first hand
how versatile the Bender Ball is and how it can be applied to and compliment many muscle groups and
movement patterns. "Experience the Bender Ball earthquake and shake the industry to the core!"
Continuing Education Credits
Canadian CEC's for Live Virtual Webinars Events

AFLCA 2, canfitpro 1 FIS, 1 HWL, 1 PTS, CFES 2,

BCRPA, MFC, SPRA pending approval
Equipment Options
| | |
| --- | --- |
| Equipment | Modification |
| Bender Ball | Small pillow, rolled up towel |
| Gliding Discs (pair) | Dependent on surface - paper or plastic plates, small facecloth |
| Resistance Tubing | Leggings, pantyhose |
| Yoga Mat | |
Course Materials
You will be provided with a Zoom link a few days prior to the event

An electronic handout will be provided
Sherry Ogasawara - Master Trainer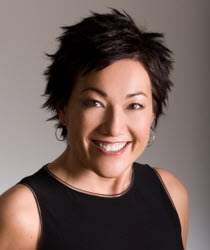 Sherry Ogasawara BSc. RD

Sherry is a registered dietitian, the owner of SO Fit Company – Nutrition, Fitness and Lifestyle Consultants and specializes in population health and wellness promotion.
She is an experienced broadcast journalist and has been regularly featured in television, radio and print media. Sherry was the creator of "To Your Health" a weekly  CKPG news feature. She also co-authored the initial Can Fit Pro's Nutrition and Wellness Specialist course manual.
She is a certified Can Fit Pro Personal Trainer and Group Fitness Instructor and holds several other specialty certifications including Zumba, Strong Nation, Pound and Pound Unplugged.
She has presented for BCRPA, Can Fit Pro and IDEA World. With over 30+ years of experience teaching, training and sharing she has connected with and impacted thousands by translating the often complex and confusing language of nutrition science into a practical mix anyone can sink their teeth into. Her dynamic approach, boundless energy and philosophy of learning through laughter contributes to the educational experience for her audiences.
Her long-term vision is to live in a world where laundry folds itself, the sun never stops shining and the next generation never has to deal with the health issues the world is currently facing. When not out there trying to make a difference, Sherry can be found researching new recipes, listening to the latest true crime podcast or enjoying a lake day in mid-summer.
Our Cancellation policy for Virtual Livestream Events
CANCELLATION POLICY - LIVE ONLINE WEBINARS (LIVE STREAM)

All cancellations must be received in writing, email, fax or letter
There are no refunds for Online Webinars


If you are unable to attend:

you will be provided with a recording of the training for a limited time
you will be provided the opportunity to attend another training at a future date
Waiver of Liability and Get Active